Which topics can you expect to see at the PASS Summit 2017 ? Find it out from July 19 to 20, 2017 at the 24 Hours of PASS Summit Preview edition.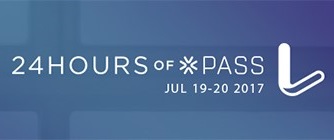 Register now at this link, thanks to the Sponsors, the 24 Hours of PASS is presented at no cost for you!
This edition of 24 Hours of PASS wants to be a sneak taste of what you can expect from the next PASS Summit that will be in Seattle (WA) from October 31 to November 03, 2017.
No matter from what part of the world you will follow the event, the important thing is to know that they will be 24 hours of continuous training on Microsoft Data Platform… direct on your desk!
Enjoy!